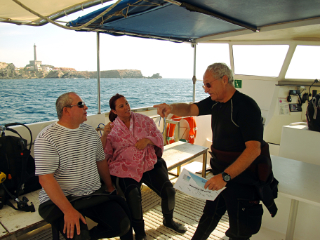 Expand your diving knowledge doing the things that you really enjoy. Photography, wreck diving, safely extending your bottom time using enriched air nitrox, there are PADI Speciality Courses for all of these and much more. Below is a selection of the most popular courses.
PADI Enriched Air Diver -
The PADI Enriched Air Diver course is PADI's most popular specialty scuba diving course, and it's easy to see why. Scuba diving with enriched air nitrox gives you more no decompression dive time. This means more time underwater, especially on repetitive scuba dives. Divers breathing underwater with Nitrox can typically stay down longer and get back in the water sooner. No wonder many divers choose this as their very first specialty.
PADI Wreck Diver -
Whether sunk on purpose as an artificial reef or the result of mishap, wrecks open fascinating windows to the past. Most divers find wrecked ships, airplanes and even automobiles nearly irresistible because they're intriguing to explore, exciting avenues of discovery, and usually teeming with aquatic life. The PADI Wreck Diver course teaches you the ins and outs of rewarding, responsible wreck diving.
PADI Deep Diver -
After your first few scuba dives, you soon want to explore a bit deeper. There's something exciting and mysterious about the depth that attracts divers. The fun part about this course is the opportunity to explore the deep. It's exhilarating. Learn Techniques for diving in the deeper range of 18-40 metres/ 60-130 feet. Deep scuba diving equipment considerations and experience in planning, organizing and making at least four deep dives under the supervision of your PADI Instructor.
PADI Digital Underwater Photographer -
Underwater photography is one of the most popular diving specialties, and the rise of digital underwater photography has made it easier and more fun than ever. The PADI Digital Underwater Photographer course gets you going quickly with todays modern digital equipment, whether you use a point-and-shoot snap camera or a sophisticated D-SLR like the pros.
PADI Peak Performance Buoyancy -
Scuba divers like to be neutrally buoyant so they neither sink nor float. It can be a tricky thing. Divers who've mastered the highest performance levels in buoyancy stand apart. They glide effortlessly, use less air and ascend, descend or hover, almost as if by thought. The PADI Peak Performance Buoyancy course refines the basic skills you learned as a PADI Open Water Diver and elevates them to the next level.
PADI Dry Suit Diver -
Wanna stay warm and toasty on a dive? Then dive dry. Yes! Unlike a wetsuit, a dry suit seals you off from the outside water and that keeps you warm! Even in surprisingly cold water. Gain the knowledge and skills to safely don, dive with, doff and store a dry-suit. Get introduced to the different types of suits so you can make a very informed decision if considering purchasing a dry suit.
PADI Underwater Naturalist -
Look closer to see more on your next dive. Look for symbioses, predator/prey and other relationships between aquatic plant and animal life. Learn not just what fish and animals are, but how they interact with each other and the environment. Jellyfish that have adapted to the underwater environment - it no longer needs to sting. Learn about why some creatures behave the way they do and what their role is in the aquatic ecosystem.