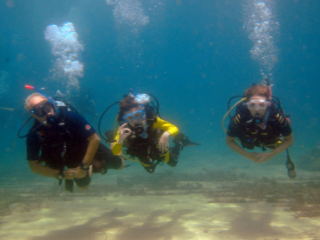 Get your PADI scuba certification. If you've always wanted to learn how to scuba dive, discover new adventures or simply see the wondrous world beneath the waves, this is where it starts.
The PADI Open Water Diver course is the world's most popular scuba course, and has introduced millions of people to the adventurous diving lifestyle.
What You Learn -
The PADI Open Water Diver course consists of three main phases:
Knowledge Development (home study or in a classroom) to understand basic principles of scuba diving
Confined Water Dives to learn basic scuba skills *
Open Water Dives to review your skills and explore!
1. Knowledge Development -
Learn the lingo. During the first phase of your PADI Open Water Diver scuba certification, you develop an understanding of the basic principles of scuba diving. You learn things like how pressure affects your body, how to choose the best scuba gear and what to consider when planning dives. You briefly review what you have studied in the five knowledge sections with your instructor and take a short quiz to be sure you're getting it. At the end of the course, you'll take a longer quiz that makes sure you have all the key concepts and ideas down. You and your instructor will review anything that you don't quite get until it's clear.
2. Confined Water Dives -
This is what it's all about – diving. You develop basic scuba skills by scuba diving in a pool or body of water with pool-like conditions. Here you'll learn everything from setting up your scuba gear to how to easily get water out of your scuba mask without surfacing. You'll also practice some emergency skills, like sharing air or replacing your scuba mask. There are five confined water dives, with each building upon the previous. Over the course of these five dives, you attain the skills you need to dive in open water.
3. Open Water Dives -
After your confined water dives, you and the new friends you've made continue learning during four open water dives with your PADI Instructor at a dive site. This is where you fully experience the underwater adventure – at the beginner level, of course.
Prerequisites -
To enroll in the PADI Open Diver course or Junior Open Water Diver course, you must be 12 years or older and be in reasonable health.
Contact:
geoff@dive-dive-dive.eu
now to book your Open Water Diver Course!